Travel In Australia


Welcome to Australia, truly a land of contrasts where cosmopolitan cities lie side by side with graceful harbours and stunning natural landscapes. Discover the vast stillness of our red outback heart, a landscape of bizarre rock formations steeped in the mystical creation stories of the Dreamtime. Wander through our National Parks and wilderness regions and encounter unique native animals and plant species in the wild. Relax on our endless and uncrowded white-sand beaches and enjoy diving, sailing or surfing in a pristine sea. Experience the genuine warmth of Australia's people and become part of our easy going, relaxed way of life. All the information you need to plan your holiday is here. Keep up to date with the latest deals and special airfares by joining our Travel Club. What are you waiting for? Australia has never been better value or easier to get to. Visit soon and discover one of the most fascinating continents on earth.

Self Drive - Travellers can discover Australia along extensive road networks. Explore at your own pace.
Major Routes - Itinerary suggestions to help you plan your trip.
Aboriginal Culture - Explore a dreamtime of experiences and learn about aboriginal art and culture.
---
Self Drive

There are only three things you'll need to see Australia close-up - a good car, a road map and your sense of adventure. Car rentals are available at dozens of locations across the nation and offer you the chance to see Australia your way. From behind the wheel of a car, four-wheel drive or campervan, in your own time - in 10 days, three weeks or six months. Ahead, just you and the road and the holiday of your life. Rolling country roads, red ochre tracks of the Outback, fast freeways from city to city, lazy pit stops beside winding country streams. The Fact Sheet gives you heaps of tips on driving laws, driving licences, driving in the Outback, tourist information services, buying a car, what to do if you have car problems, where to pick up maps and directories, and many "must see" do-it-yourself itineraries.

| | |
| --- | --- |
| Australian Capital | Canberra |
| Principal Event 2000 | Olympic Games Sydney |
| National Animal | Kangaroo |
| Largest Island | Tasmania |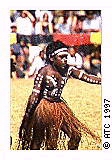 Major Route 1 NEW SOUTH WALES
SydneY and Surrounds
The Blue Mountains
Central Coast
Explorer Country
Hunter Region
Lord Howe Island
Austrailia's Holiday Coast
New England - North West
Northern Rivers Tropical New South Wales
Aboriginal

For more than 50,000 years indigenous people have lived and dreamed in Austrailia.
They've watched the winds, the rain, the grasses, trees and flowers and known where to go for food, shelter and comfort. All the while developing a unique oneness with the land, a knowledge of their environment,plants and animals rarely seen in the world's history.
This oneness is seen throughout their culture, in the 'Dreaming', the storytelling and art, the oldest art form in the world. The rock art, spread across the nation, is a mass of colour, shape and texture, recording stories, totemic and religious beliefs 50,000 years old.