Caring for your New Ostrich

A quick guide to ostrich welfare
Your new ostrich is a deicate and sensitive creature. This document describes how to care for your ostrich so that he can be a happy and healthy ostrich and give hours of fun and friendship.
Remember the ostrich is a very large flightless bird
Ostriches are very powerful and can be extremely aggressive especially when protecting thier young.
Feeding your ostrich
Grooming your ostrich
Cleaning up after your ostrich
Taunting your ostrich
See our other ostrich Page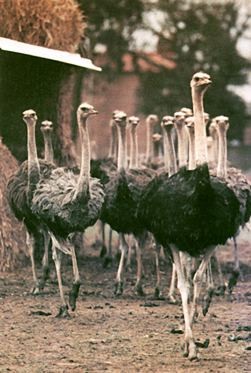 My name is Ian Lowe. I'm a student at City College.